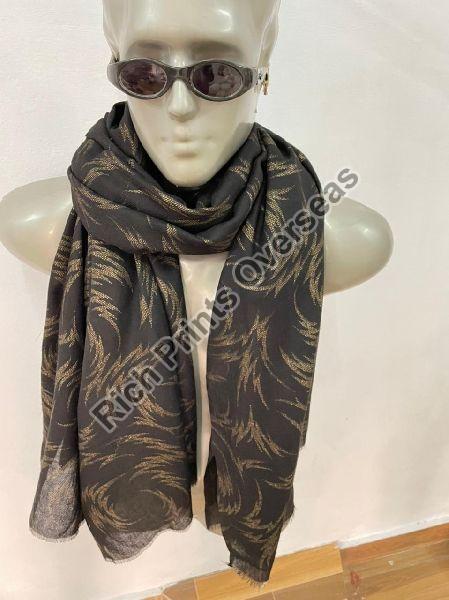 As winter is approaching, it is necessary to start curating your winter wardrobe part by part. However, this delusion about winter layering needs to be smashed. Don't think that you can't look trendy and stylish in the winter. Wear an intricately designed shawl over all the layering and you're good to go. Attend all the winter functions in style and rock your best self even on chilly days and nights.
A shawl, an apex of the high-end art of clothing, is a basic Indian drape that is wrapped loosely over the shoulders, upper body, and arms, and occasionally also over the head. Shawls are one of those favourite winter accessories for your closet. And in terms of fabric, we all know that winter is all about wool. woolen Shawls are worn for warmth, to highlight an attire, and for symbolism leaving you looking effortlessly admirable.
If you are looking out for some winter accessories? A printed wool shawl is one of your best options which is worth a try in winter. Printed woolen Shawls don't need much effort in putting on or taking off as well. This type of woolen shawl is the right winter gear that you need to stock up in your wardrobe. It will allow you to call upon any appropriate winter wear whenever required. This winter essential won't let you compromise on style as they have their presence in the market with various colours, patterns, and designs.
A printed woolen shawl for women gives you the prestige of luxury. Charm and grace are embroidered into the handcrafted woolen shawl with ethereal wool. The printed woolen shawl suppliers in India are intended to provide a contemporary aesthetic that is both sophisticated and appealing.
Intricate designs and prints are another great part of woolen shawls. A variety of unique prints in different attractive colours, and captivating motifs are available for every personality. You will see the variety of threads used and their unique colours. Nothing can match the fine artwork that you will find in a heavily detailed printed woolen shawl. However, to maintain its elegance you need to be careful while cleaning or washing your delicate woolen shawl.
Printed Woolen Shawl Suppliers are one-stop-shops where you can find any and every kind of winter accessory in the latest styles. It doesn't matter how much your budget is, because their woolen shawls are priced affordably to fit inside any envelope. Sign up today so you can view the beautiful collection of winter shawls online before they're all gone.
Some of the important aspects that need extra attention by the printed woolen shawl suppliers-
They should ensure that every raw material that goes into the manufacturing of woolen shawls is procured from the best vendors.
They should be backed by a manufacturing facility with modern tools and the latest machinery to design an innovative range of printed woolen shawls to capture enthralled customers all over the world.
They should have an efficient dedicated team who are working continuously to stay updated with the latest market trends, designs and technologies.
They should ensure that business operations are tailored to derive 100% customer satisfaction through timely delivery and transparent business policies.
They should also offer customisation in the printing designs to meet the needs of different customers.
Conclusion
Thus, a cozy printed woolen shawl is a wardrobe essential during winter that elevates the glamorous quotient of any woman. Check out the exclusive collection of printed woolen shawl suppliers in India and give your loved ones the legacy of warmth.